Sustainability - Optimisation of Infrastructure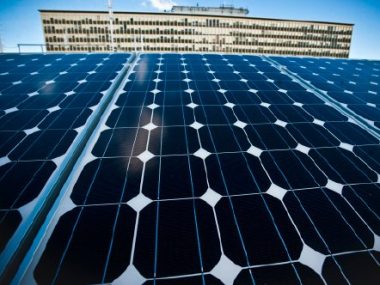 The IT and sustainability theme, Optimisation of infrastructure to best support the needs of our society with particular reference to economic and social sustainability, health and wellbeing, renewable energy and a sustainable environment, is closely related to the Optimisation sub-theme in Productivity and Innovation.
Many projects in this area are affiliated with the University centre, CTI-Monash Centre for Optimisation. Based in the Faculty of IT, the Centre is led by one of the faculty's most prominent researchers, Professor Mark Wallace.
In addition to Professor Wallace, other Faculty researchers involved in projects in this area include; Professor Geoff Webb, Dr Pramudi Suraweera and Mr Ranga Muhandiramge.
Solar biofuel and carbon sequestration using Cyanobacteria
Researchers:

A/Prof Madhu Chetty (Madhu.Chetty@monash.edu), Dr Ross Coppel (Ross.Coppel@monash.edu), Prof. P. Wangikar and Dr Vinh Nguyen (Vinh.Nguyen@monash.edu)

Partners:
Indian Institute of Technology, Bombay
Centre:
CRIS
Funding:
Australia-India Strategic Research Fund 2011-2013
Project Website:
http://personal.gscit.monash.edu.au/~mchetty/
Project outline:
Bio-fuel production and carbon sequestration have been getting increasing attention in the recent years due to the dwindling fossil fuel reserves and global warming, respectively. more...
Cyanobacteria are oxygen evolving photosynthetic prokaryotes and play a key role in the harvesting of solar energy. Cyanobacteria are also responsible for naturally sequestering a large part of carbon dioxide from the earth's atmosphere. An emerging idea is to sequester CO2 at source by using cyanobacterial ponds. Further, in nature, cyanobacteria are exposed to low levels of CO2 and convert most of the carbon to biomass and glycogen, both of which are relatively low value products. Many of the cyanobacteria also have naturally occurring biosynthetic machinery that is capable of converting CO2 to fine chemicals and fuel. We propose to develop techniques to investigate, via in-silico and in-vitro experiments, the underlying regulatory processes that channel the carbon toward various products. A system level view provided by reconstructing a genetic network in a genome scale model is crucial in tuning the biosynthetic machinery of these bacteria. We will focus our attention on four cyanobacteria strains, namely, Synechocystis sp. PCC 6803, Cyanothece sp. ATCC 51142, Cyanothece sp. PCC 7424, and Cyanothece sp. PCC 8801. We will simulate various genotypic and growth conditions for cyanobacteria using high performance computing platform and involving altered light availability, substrate availability, light-dark cycles, etc while the genotypic conditions may involve knock-out / knock-in of certain regulatory genes. A select subset of these predictions would be experimentally validated via phenotypic characterization. less...
Related theme:
Productivity and Innovation: Intelligent Systems
Key outcomes:
From Tactical Planning to Operational Control – Bridging the Chasm
Researchers:
Prof Mark Wallace (Mark.Wallace@monash.edu), Dr Wenkai Li (Monash University), Prof Natashia Boland (University of Newcastle), Dr Hanyu Gu (Hanyu.Gu@monash.edu), Mr. Ian Evans (Constraint Technologies
Partners:
CTI, University of Melbourne
Centre:
CTI-Monash Centre for Optimisation
Funding:
ARC Linkage 2006-2009
Project website:
http://www.infotech.monash.edu.au/research/about/centres/cti/projects/
Project outline:
All organisations plan, and all organisations suffer from the disruptions that occur when plans are put into practice. Few organisations manage to balance operational control with planning to as to maintain both efficiency and flexibility to deal with the unexpected. This project addresses this requirement for the transportation and logistics industries. more...
The results discovered within the project will enable the industrial partner, CTI, to develop solutions for major companies worldwide. The technology will be used to build further optimisation products. Moreover the project will extend Australia's lead in constraint programming and expertise in optimisation. This creates a major opportunity for Australia's software industry.
The integration of tactical planning with operational control, addressed in this project, stands to bring huge benefits in productivity and customer service for trucking and airlines. This project explores enhanced operational control that incorporates not only concrete local information but also abstract global information. Tactical planning is adapted to this more intelligent operational behaviour. The approach depends on an integration of integer/linear programming for tactical optimisation, with constraint propagation and search operational control. The research goal is to integrate proactive and reactive scheduling for logistics and transportation. less...
Related theme:
Productivity and Innovation: Optimisation for travel
Key outcomes:
Methods and software for efficiently solving the transportation crewing problem
Researchers:
Prof Mark Wallace, Prof Geoff Webb, Dr Ranga Muhandiramge, Dr Pramudi Suraweera (Monash University), Prof Natashia Boland, Dr Hamish Wareter (University of Newcastle), Dr Hanyu Gu (Hanyu.Gu@monash.edu), Mr. Ian Evans (Constraint Technologies)
Partners:
CTI, University of Newcastle
Centre:
CTI-Monash Centre for Optimisation
Funding:
ARC Linkage 2008-2012
Project website:
http://www.infotech.monash.edu.au/research/about/centres/cti/projects/
Project outline:
This project will target major savings in airlines, trucking, rail and public transport, with resulting benefits for industrial logistics, travel and tourism. The results discovered within the project will enable the industrial partner, CTI, to develop solutions for major companies worldwide. more...
The results can also be transferred to other industrial optimisation applications, such as mining, services and manufacturing. Finally the project will build on Australia's international prominence in data analysis and combinatorial optimisation, and capitalise on a major opportunity for the Australian software industry.
Industrial combinatorial problems are hard to state, hard to solve and hard to implement. This project applies data mining to help identify properties that make solutions robust, and it applies techniques for analysing and constructing optimisation algorithms to help generate efficient solutions that match the problem. Software that generates industrial benchmarks matching every kind of transportation crewing problem will drive our work, and encourage external research and industry to assess our results. A method for fast development of efficient solutions will represent both a technical and a social breakthrough, dramatically increasing the takeup of optimisation technology.
less...
Related theme:
Productivity and Innovation: Optimisation for travel
Key outcomes:
The Right Place at the Right Time at the Right Cost: A transport system that meets people's needs while minimising cost and environmental impact
Researchers:
Prof Mark Wallace, Prof Geoff Rose
Partners:
Monash Faculty of Engineering (Centre for Transport Studies), CTI
Centre:
CTI-Monash Centre for Optimisation, CRIS COSI
Funding:
PROPOSED CRC
Project outline:

Transport is now a major constraint on the economic future of all the worlds cities. Growing traffic congestion, growing congestion on public transport, the climate change impacts of road transport, the community and amenity impacts of car dependence and the social and economic impacts of rising fuel prices make the efficiency and effectiveness of urban transport a concern for all. more...
The demand for public transport has risen in Melbourne at an unprecedented rate of 10% per year. Moreover freight demand is forecast to double by 2020. The cost of congestion in Melbourne is currently estimated at $A3billion per year.
Poor transport is socially divisive, and causes human deprivation as well as environmental damage.
While there are intensive studies of specific bottlenecks and specific transport options – for example the Footscray to Caulfield tunnel – there are no studies that take a global view of Melbourne's urban transport and logistics needs and solutions. The interaction between passenger and freight movements on road and rail, the impact of disruptions and more specifically the optimal allocation of infrastructure to each transport requirement based on its specific origin and destination are beyond the scope of current analysis and optimisation approaches.
Monash together with VicRoads and CTI will have access to data which was previously unattainable through the wide range of data collected by VicRoads, through a novel "WheresMyTruck" product from CTI and through sophisticated analysis provided by the Monash Institute of Transport Studies. This data can be employed both to optimise the use of the existing infrastructure and through the potential to globally optimise infrastructure planning and investment, so as to achieve the greatest benefits possible within available budgets.
less...

Related theme:
Productivity and Innovation: Optimisation for travel
Key outcomes:
Combining Mathematical Programming and Constraint Programming to Solve Large-scale Integrated Scheduling Problems
Researchers:

Prof Mark Wallace (Mark.Wallace@monash.edu), Prof Natashia Boland (University of Newcastle), Dr Hanyu Gu (Hanyu.Gu@monash.edu), Mr. Ian Evans (Constraint Technologies), Dr Kerem Akartunali, and PhD students: Olivia Smith and Sophie Dickson (University of Melbourne).

Partners:
CTI, University of Melbourne
Centre:
CTI-Monash Centre for Optimisation
Funding:
ARC Linkage 2006-2007
Project Website:
http://www.infotech.monash.edu.au/research/about/centres/cti/projects/
Project outline:
This project targeted major savings in the airline industry, with resulting benefits for others such as tourism. The efficient use of airline fuel, which was directly addressed in the project, is very important for the environment. more...
The algorithms developed can improve cost and quality of service for Australian transportation, manufacturing and other industries. The solutions developed within the project are being sold by the industrial partner, CTI, into major companies worldwide, and the technology will be used to develop further products. Finally the project has extended Australia's lead in constraint programming and expertise in optimisation. This creates a major opportunity for the Australian software industry. less...
Related theme:
Productivity and Innovation: Optimisation for travel
Key outcomes: